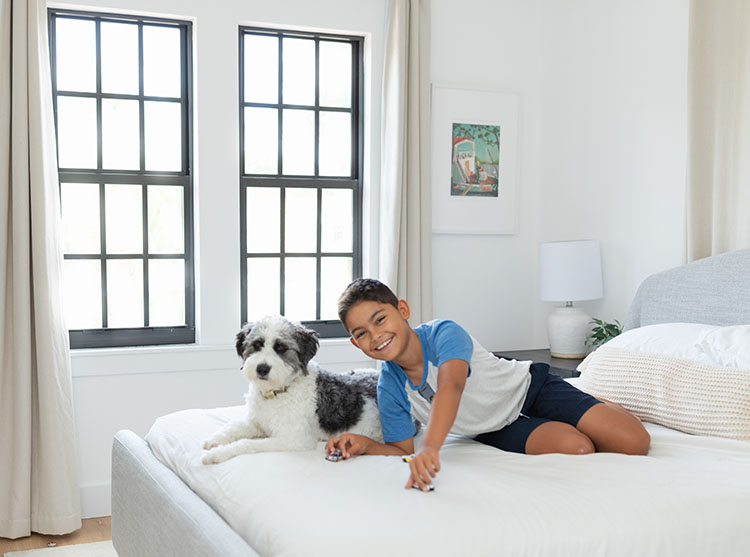 Understanding the Different Window frame materials
When shopping for replacement windows, it's essential to consider the type of window frame that you invest in. Window frames are like the backbone of a window - making sure they last decades rather than just years! There are 5 key types on offer from most major brands: aluminum, composite, vinyl fiberglass, and traditional wooden frames. Each has its own style benefits; as well as energy efficiency & durability factors which we'll be exploring here too. So make sure your first step is looking into quality window frames before picking out any glass panes!
Your home's windows can take a beating over the years, and if you're seeing signs of wear, it may be time to think about replacing them. But with so many options out there – from frame material to design features - how do you choose? We've got some guidelines that will help make sure each window in your house fits both its style and function!
Windows give your home personality and protection from the elements, but with temperatures constantly fluctuating outside it's important to consider what kind of frame material you're choosing. As air expands or contracts in between panes due to various conditions, window frames must be tough enough not only for looks –but also durability– so that they don't get warped by these everchanging pressures. When selecting windows this is a critical factor many people overlook: how long will my investment last?
Choosing the right window frames for your home can be a tricky decision. You need to consider both function and aesthetics, as getting it wrong could lead to expensive energy bills or discomfort during extreme temperatures. There are 7 common materials on the market each having their own pros and cons; picking one that clashes with your house style will not only look bad but also come at an unexpected cost! Weigh up all options carefully before you make this key purchase - afterall nobody wants ugly windows ruining their luxurious pad.
Wooden Frames
Pros
Wooden window frames are long-lasting and highly durable when maintained properly
These types of window frames are easy to clean, replace, and fix when needed
Even though they are a traditional option, you can make these frames to fit both the exterior and interior decor of your home
They are beautiful and make your home look stylish and attractive
Since wood is an excellent insulator, these frames are a highly energy-efficient option
Cons
It is the most expensive type of window frame
They require regular maintenance, including periodical painting and proper protection against adverse weather conditions
These frames are not insect-resistant, and termites may destroy them, especially in some regions
These types of window frames are susceptible to rot and mold
Vinyl (PVC) Frames
Pros
Vinyl is an affordable and versatile material convenient for making different window designs and styles
These types of window frames require little maintenance
They come with UV (ultraviolet light) stabilizers
If filled with quality insulation, these frames are highly energy-efficient and moisture resistant
It is a cost-effective option
Cons
These frames are available in just a few colors, including the most common white, which makes it a very standard, non-custom choice
Vinyl colors fade during extreme heat conditions, and you will need to replace the entire window since you can't repaint this material
The resale value of these frames is quite low
Stress cracks are common in extreme temperatures due to the expansion and contraction of vinyl
Aluminum Frames
Pros
These types of window frames are well-known for their durability and low maintenance
They are sound-resistant, weatherproof, and practical
It is a modern and chic option for contemporary-styled houses that allows sunlight to filter through
Weather won't affect this material, and it won't rot, rust, fade, shrink or become moldy over time
Cons
These types of window frames are the less energy-efficient ones compared to other options
Aluminum absorbs cold, and frames made of this material are not efficient insulators
They are costly
In high-humidity areas, the frames will "sweat" when the dew point is close to the ambient temperature. This is due to the frames being non-insulative by nature.
Fiberglass Frames
Pros
You can repaint these types of window frames when needed
Except they are excellent insulators and resistant to cracking and fading for long, these frames require low maintenance
It is weatherproof, sound resistant, long-lasting, and the most durable type of window frame with excellent thermal performances
These energy-efficient frames are resistant to adverse weather conditions
Since fiberglass is primarily made of fine sand, it is considered a sustainable material
Cons
These types of window frames look like PVC models, and they are equally energy-efficient but more expensive
Composite Wood Frames
Pros
These types of window frames are a practical and highly convenient replacement to wooden frames
The thermal properties of this energy-efficient model of frames are fantastic

Cons

Since they are the newest option, composite frames are highly expensive
If you plan to resell your house, you should keep in mind that these costly windows won't increase the value of your property
When it comes time to choose a frame material, there's more than meets the eye! Durability, cost-effectiveness, and even style all come into play. Energy efficiency is also an important factor when choosing materials – so make sure you consider your options carefully before making a final decision.