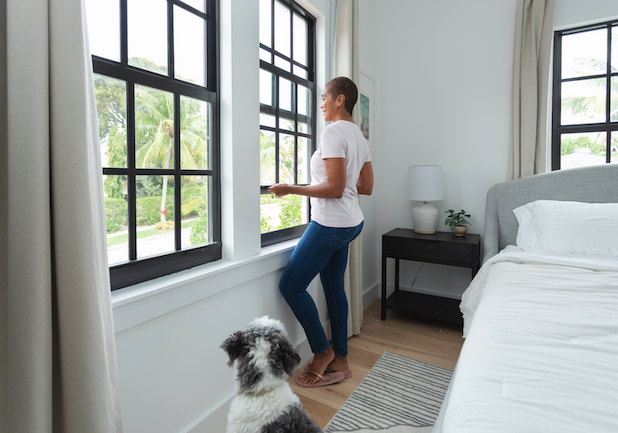 Window & Door Trends for 2022
Thinking about replacing your windows is a big decision and there are many factors to consider. There's style, size, how much light to allow in, and what size do you need? Picture window or casement windows. Replacing your windows is a very expensive, but necessary cost for your house. When perimeter seals on old double-glazed windows fail, condensation accumulates between the glass panes, obscuring the view and reducing energy efficiency. The presence of more condensation can also increase mold growth, which creates an unhealthy environment, especially for asthmatic or allergy sufferers.
With energy-efficient windows, there is less transfer of energy, so interior glass surfaces stay warmer, and condensation does not form, reducing the feeling of coldness in rooms. Whenever it comes to home renovations, there are always the newest trends to follow and why they are so popular. Below are a few of the latest trends in windows to consider for your next purchase.
Style Trends
Deciding what style of replacement window, you would like is a difficult decision. Not only are you deciding for yourself, but you're also deciding for any future owners. The current style of a particular room will determine the style of window that complements it.
Double-hung, single-hung, sliding, and casement windows have remained tried and true over the years. Not only are they efficient at allowing light in, but they also provide the added benefit of allowing ventilation into the room, no matter what the weather is outside. Now more people are increasingly interested in tilt-and-turn windows because of their versatility. Not only do they provide excellent ventilation, but they also make cleaning windows much easier.
Window Frame Color Options
In recent years, black window frames have been popular for interior and exterior applications. With their sleek, bold, and classic look, it's no wonder they are here to stay. They add a subtle pop to the home. Black windows also benefit from fitting in with endless architectural designs, decorating styles, and color pallets. Black windows can also increase your home's value by 15% over white windows.
In addition, black frames add a clean, modern look to residential windows that often don't require window treatments. The newest color to take notice of is slate grey which is predicted to be the most popular choice for windows and doors in the years to come. More color choices are beginning to appear such as tan, and bronze.
Picture or Bay Windows
Picture and bay windows allow for a ton of light to flood a room. They also tend to frame what is outside, making it appear as a picture. These do not open so they can provide a clear unobstructed view and feel as if they bring the outdoors inside. Oversized floor-to-ceiling windows have become increasingly popular over the past ten years. Panels that span wall to wall provide an impressive panoramic scene. These provide a stunning view of overlooking the city, the mountains, a beautiful garden, or an inviting swimming pool. Choices are now indicating a need for calm and this can be achieved by bringing nature indoors by selecting large picture windows that enhance views of the outdoors. The beauty of nature, greenery, life, and natural light inspires people
Understanding the benefits of natural light for our mental health has become increasingly important and valuable in recent years. People who value this are more likely to choose larger, uncovered windows and doors that provide a clear view. This indicates there is a growing interest in connecting with nature and an increasing need for it.
Energy Efficient Windows
The most notable place where heating and cooling loss is detected is through the windows. Increasingly, people are becoming aware of this unnecessary energy waste in their homes, which is why the biggest residential window trend currently is to install energy-efficient windows. While double-pane glass is still the preferred choice, argon-gas-filled windows with low-E glass are a very close second.
One of the biggest window trends of 2022 is energy efficiency, not to only benefit your wallet, but the environment too. Due to the increasing number of people who make environmentally friendly decisions, energy efficiency has become more sustainable and eco-friendlier. The popularity of larger windows is growing and so is the challenge of keeping a home energy efficient. Staying on top of the latest trends allows people to ensure they have the best in beauty, quality, and efficiency. Energy-efficient windows come in various styles that fit your needs. While they are expensive up front, they will end up saving you money on your electric bills over time. Another benefit is that they not only increase your home's resale value but also make it more appealing to the next owner.
Conclusion
New windows are not only more energy efficient, but they also provide security, sound control, and protection from extreme weather. Replacement windows provide a better seal, therefore saving you on your heating and cooling costs. Deciding what style of replacement window, you are looking for can be overwhelming, but Wallaby Windows can help you decide which replacement windows are right for your home. We provide single-hung, double-hung, sliding, casement, and picture windows. We also have a wide selection of window designs and feature options to choose from.