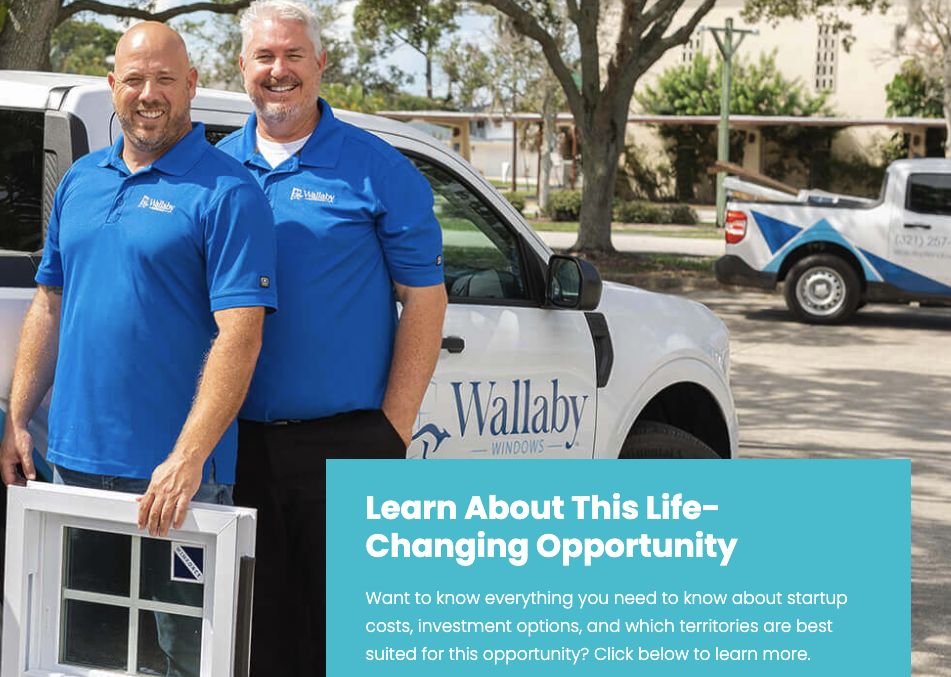 Your Window of Opportunity: Join Wallaby Windows as a Franchise Owner
The Home Services Industry is Booming!
In the vast sea of home improvement, where Americans invest over $500 billion annually, a golden opportunity awaits. The industry's Compound Annual Growth Rate (CAGR) of 4.1% promises a flourishing market in the years to come. This is your window of opportunity to become a part of this thriving industry and create your success story. At Wallaby Windows HQ, we offer you the franchise opportunity of a lifetime, and with it comes unwavering support.
The Lucrative Home Improvement Market
The home improvement industry in the United States is nothing short of impressive. Let's dive into some intriguing statistics:
$500 Billion Annual Spending: Americans are no strangers to home improvements, investing a whopping $500 billion each year, according to data from the U.S. Census Bureau.

4.1% CAGR: The home improvement market's Compound Annual Growth Rate (CAGR) is projected to be 4.1%. This figure highlights the market's consistent and substantial growth. (Source: MarketWatch)
Wallaby Windows HQ: A Franchise Opportunity Like No Other
At Wallaby Windows HQ, we offer an exceptional franchising opportunity that's poised to thrive within the growing home improvement market. Here's what sets us apart:
Proven Track Record: We have a history of success in the window installation industry, with a portfolio of satisfied customers across the nation.

Established Brand: Wallaby Windows is a recognized and trusted name in the industry. As a franchisee, you'll benefit from our established brand and reputation.

Exclusive Territories: Our franchisees are provided with exclusive territories, ensuring limited competition and ample opportunities for growth.

Comprehensive Training: We offer comprehensive training programs to equip you with the skills and knowledge needed to excel in the window installation business.
The Wallaby Windows Experience
What makes the Wallaby Windows franchise experience stand out? Let's take a closer look at the exceptional support and benefits we provide:
Marketing Support: We assist you in developing effective marketing strategies and provide marketing materials to help you reach your target audience.

Operational Support: Our team of experts is available to guide you through the operational aspects of your franchise, from inventory management to project management.

Technical Assistance: You'll receive technical support from our skilled professionals to ensure that every window installation is executed to perfection.

Ongoing Training: Continuous learning is crucial in a rapidly evolving industry. We offer ongoing training to keep you updated with the latest window technology and installation techniques.
Delivering Comfort, Safety, and Savings Nationwide
When you become a Wallaby Windows franchisee, you're not just running a business; you're delivering comfort, safety, and savings to families nationwide. Here's how:
Energy-Efficient Solutions: Our windows are designed to enhance energy efficiency, reducing energy bills and making homes more comfortable.

Enhanced Security: Wallaby Windows prioritize safety. Our products offer robust security features, giving homeowners peace of mind.

Cost Savings: By choosing Wallaby Windows, homeowners can significantly reduce their energy costs, creating a win-win situation for them and you.
The Reward of Making a Difference
At Wallaby Windows, we believe in giving back. As a franchisee, you'll have the opportunity to make a real difference in your community:
Eco-Friendly Products: Our commitment to the environment means that you're contributing to a greener world by installing energy-efficient windows.

Local Employment: As a franchisee, you'll be creating jobs and stimulating your local economy.

Customer Satisfaction: Satisfied customers lead to word-of-mouth referrals, enhancing your reputation and business growth.
Secure Your Future
Don't miss out on this extraordinary window of opportunity. Join the Wallaby Windows franchise and position yourself for success in the booming home improvement market. Here's how to get started:
Invest in Your Future: With Wallaby Windows, you're not just investing in a business; you're investing in a brighter, more sustainable future for yourself and your community.
Your Window of Opportunity with Wallaby Windows
The home improvement market's exponential growth presents a unique chance to carve your piece of the pie. Wallaby Windows HQ offers a franchising opportunity that combines a proven track record with comprehensive support. By joining us, you'll be delivering comfort, safety, and savings to families across the nation while reaping the rewards of making a real difference in your community. Take the plunge and secure your future today – your window of opportunity is wide open.